Mural work requires a lot of strength and flexibility with climbing, lifting, stretching and intense stress to the shoulders, arms and neck. I credit the Beta Pilates staff with helping me to stay in condition throughout my latest project - avoiding the need for physical therapy, meds and working in pain. Thank You!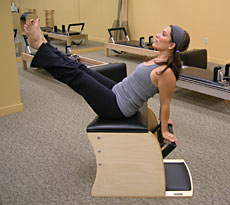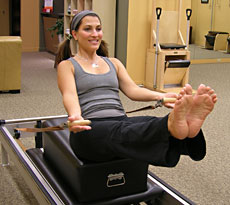 Kim loves the Teaser

"
It is the accomplishment exercise
of the Pilates system."



I am a busy mother of 2 young children, with another full-time job outside of the house. After having two c-sections, I needed to do something to regain the muscles in my abdomen as well as save my back, which had also fallen prey to the weight of both pregnancies, and subsequent weight of carrying around these new little people. I had bought Pilates tapes and tried a few classes at various gyms, but never got anything out of them. I had heard that to really "get" Pilates you need to be in a place devoted to Pilates. Needless to say, I have found that and so much more in Beta Pilates.

I could barely do anything when I first started, and am amazed at the progress that I have achieved with the help of the phenomenal and specialized instructors at Beta. Even in a class setting, the instructors are able to fine-tune moves for each client's individual needs. The whole shape of my body has changed for the better. I have also come to think of Beta Pilates as a comfortable getaway from the rest of the chaos in my life. It is a place where camaraderie with the other members transcends age, size, gender, Pilates ability, and all other exercise experience.

There is a kinship and bond of both encouragement and achievement that is shared among members. I have never been able to stick to one form of exercise for too long due to boredom and monotony. After almost 2 years, I still look forward to coming to Beta Pilates and the variety of its Pilates classes, instructors and other members that I find there.